The Ultimate Travel Case for Cameras
You've probably seen those small compact camera carriers in Best Buy or Target, and while basic, it's normal to buy them when you first get a camera. However, as a budding photographer, you should know there are way more options out there for you.
From backpacks to slings, you have a lot to choose from when it comes to a travel case for cameras. 
Luckily, we'll dive into some of the best camera carrying cases, as well as how you can use them more effectively. Let's get started!
Meet the Cast: Travel Case for Cameras
What do you think of when "travel case for cameras" comes to mind? A hard case? Shoulder bag? Or maybe a backpack?
In fact, there are many types of travel cases for cameras, so we'll list some of the most common: 
Backpacks
A camera backpack is one of the top choices of a camera bag for many photographers. Backpacks have a lot of features that make them a favorite amongst many. 
For example, they tend to be large and versatile, with often customizable interiors. Many backpacks are made of more durable materials that we don't always see in their counterpart bags. They're also great for comfort, often being made with tons of padding and extra straps for weight distribution. 
Carry-On Roller Bags and Cases
For photographers that need a lot of equipment with them during travel, indoor, or city based shoots, carry-on roller bags are a wise choice for a camera bag. The roller bag allows you to take the strain off your shoulders by rolling the bag behind you, much like a regular suitcase. 
Slings
Camera sling bags are a super portable option that will keep your hands free throughout your next shoot. They sit comfortably around your waist, taking the strain off your shoulders on longer shooting days. That's why a sling is a great small camera bag for travel.
Messenger Bags
A messenger bag or shoulder bag is a classic choice for many photographers. We love the casual feel that a messenger camera bag provides. A great messenger or shoulder camera bag is going to be lightweight, stylish, and carry more than just your DSLR camera. They're perfect for daily use.
Waist Belts and Holsters
Simple and classic, waist belts and holsters are aptly designed to keep your camera and a few accessories safe. You can even find ones that will fit your camera model exactly, making them highly specialized. And, don't forget practicality, as they can easily fit in a suitcase, travel bag, or other larger backpack.
Small Carrying Cases
While there are even more types of camera carrying cases out there, the ones listed are by far some of the most common and useful. 
There are also smaller travel cases to consider like packing cubes, tech pouches and lens filter cases. what camera lens cases do you use for travel?
Don't worry if you're feeling overwhelmed, as there are ways to pick out the best travel case for cameras from the crowd.
What Makes a Good Travel Case for Cameras?
 Now that you know all about the different types of travel cases for cameras, it's important to understand what makes a travel case great. After all, picking the right bag can make your photo shoot so much easier. 
Here are some top factors to consider:
Size
Before purchasing a travel case, you should ask yourself what exactly you'll need to carry in it. Do you need a small camera bag for travel, or a big one?
Some photographers might want to carry all their equipment in their bag, regardless of how large or how heavy it gets. On the other hand, something more compact could fit as a carry on, or be less strenuous during a long photoshoot.
Your preference can determine whether or not you want a large roller bag, or a lightweight holster.
Budget
Budget is another important factor to consider before purchasing a bag.
If you're new to photography, a budget friendly option might be better. After all, you might not be 100% what you need, so a cheaper bag that'll help you get acclimated can be a good investment.
Or, maybe you're looking to invest in a super versatile travel case that will last you for years.
Overall, there's a reason why many beginners go for the classic holster, and there's a reason why many pros like high-end camera backpacks. 
Capacity
A travel case's capacity determines how many items it can hold within it's provided space.
It's important to consider a bag's designated storage space for equipment. So, if you're looking for a camera bag that's got enough storage for two DSLRs, six lenses, and your huge laptop, those considerations fall under capacity.
Same goes for those who are looking for less equipment space and more storage for personal items. Either way, there's a bag out there with the storage capacity you need.
Durability
Durability is how much wear and tear your bag can take, and ultimately how long it's going to last you. It can be especially important when you're traveling around.
Things that go into a camera bag's durability include: the material it's made of, weather or waterproofing, any kind of padding, and the overall quality of build of the bag.
Comfort
A large, durable and spacious travel case for cameras is great and all, but what if it's dreadfully uncomfortable any way you hold it?
Ask yourself what comfort features are important to you, and if you're willing to pay extra to get all those features. Otherwise, you might have to settle in some areas. Some photographers do work that doesn't require a lot of time carrying their bag, so budget may take precedence over comfort. 
For others, like travel photographers who carry their bags long distances, comfort may be worth investing in. Some key features to look out for are proper shoulder and back padding, and whether it has chest and waist straps for weight distribution.
Access
A larger bag might provide you with more space, but it won't be as useful without access. After all, the perfect shot could be around any corner. 
Instead, ease of access for camera carrying cases can make your life much easier. 
Look for bags with quick side-access pockets that allow you to grab your camera or other gear without shuffling. Additionally, bags with USB ports for easy charging, as well as other convenience features, are a must.
Security 
Last but not least, everyone wants a safe camera bag. 
When in doubt, a lot of safe camera bags come with extra features to keep your equipment protected, like cable locks and special zippers. 
With the investment photographers put into their equipment, security is essential. And while not every bag has the latest in security features, many offer a lot of options to keep gear secure.
The Best Travel Case for Cameras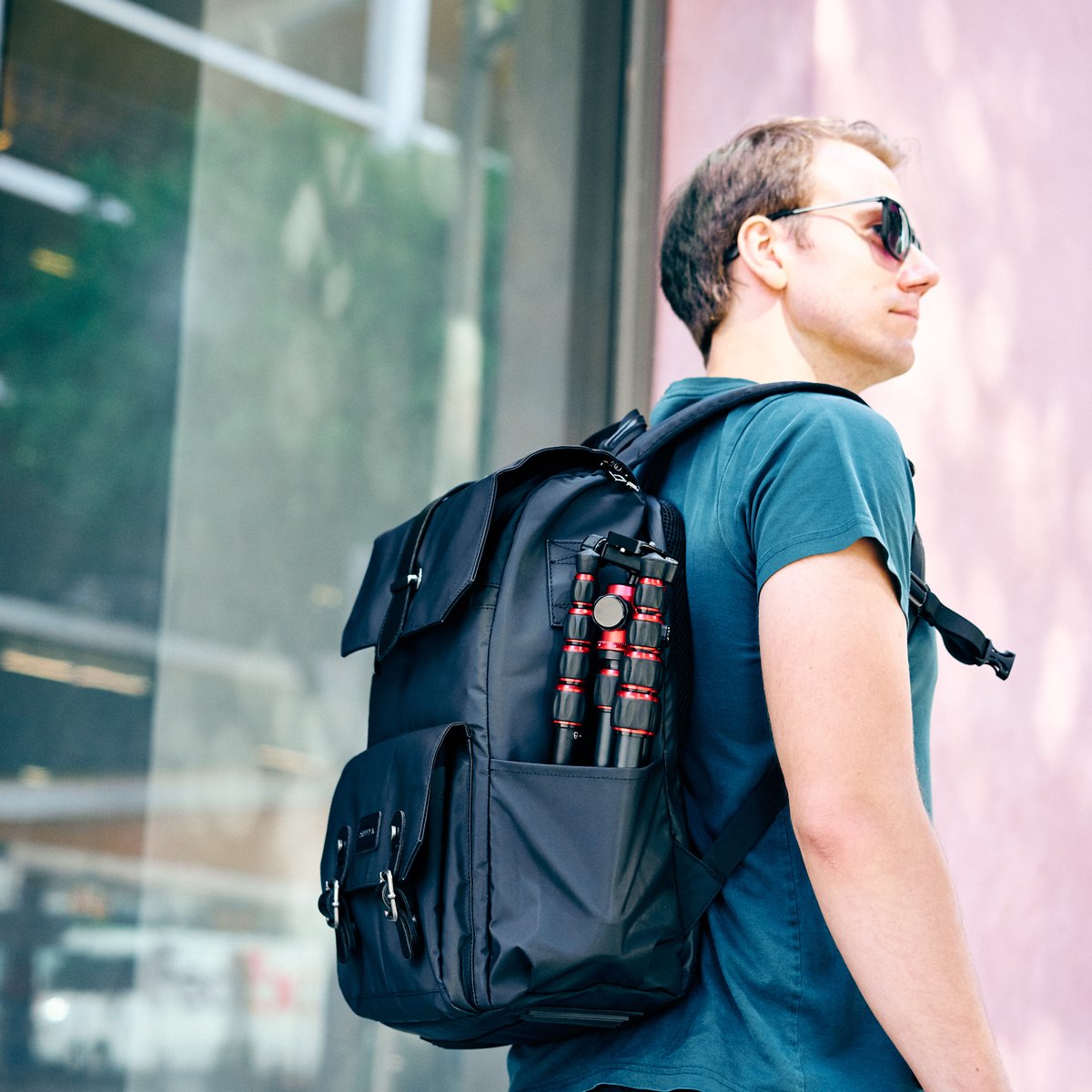 Knowing all of these info, the best travel case for cameras is by far the Sunny 16 Voyager camera backpack. 
It's midsize camera backpack, making it versatile for any kind of photography. By far, it's the best camera case for travel. 
The Voyager is a very affordable option given all its features, coming in between $169-$199, depending on your preferred variation.
This backpack packs a serious amount of gear for its size, fitting two DSLR cameras, up to seven lenses, a laptop, a tablet, and other accessories. It's made of a weatherproof material, making it perfect for any of your travels, rain or shine. 
For comfort, this backpack features both padded shoulder straps and padding on the back made of light, breathable material. You'll have comfort during extended periods of time wearing it, and keep cool when it's hot out.
On top of that, you'll have quick access during your travels. The Voyager has multiple access points to equipment with both rear access, side access, and a top pocket for your convenience. Having side access as the primary bag opening keeps your equipment safe and close to you. 
And speaking of safety, you can use the hidden zipper and anti-theft clamshell opening to secure your equipment. 
All of that combined makes the Voyager the best camera case for travel. You'll be able to rest easy knowing your gear is protected, easy to access, and won't weigh you down. 
The Most Functional Travel Case for Cameras
Now that you know all about the best travel case for cameras, you're ready to purchase your next camera travel case. Easily pack your essential camera equipment and personal items in your Voyager camera backpack.