Regular price
$239.00
Sale price
$199.00
Unit price
per
Sale
Sold out
The Voyager travel backpack is ideal for road trip adventures, work, school and photography. This camera bag can fit a lot of gear and personal items!
Premium tarpaulin and waxed canvas versions to handle tough weather conditions
Fast access to your travel camera gear
Luggage sleeve for simpler traveling
Hidden passport pocket in bottom of backpack
Breeze through TSA with the anti-theft clamshell opening back panel
Laptop and tablet sleeve fits a 16" Macbook Pro and is checkpoint friendly
Upper storage for personal items and clothes (with the customizable dividers)
Highly breathable mesh padding for complete comfort








Better Organization: The camera backpack that is endlessly customizable with modular, soft padded dividers that will keep your gear safe and organized. It also includes a dedicated, protective sleeve in the main compartment for your 16" laptop or tablet.
Built for Protection: The exterior tarpaulin and canvas material is designed to endure harsh weather conditions and highly durable to keep your equipment safe at all times.
Quick Side Access: Instantly access your camera from the side access zipper so you never miss a shot.
All-Day Comfort: The highly breathable, mesh-padding feels great on the back and shoulders. The straps can be adjusted and optimized for any height and body type.
In the box: 1 camera backpack, USB cable to connect a power bank, 8 dividers
Covered by our lifetime warranty.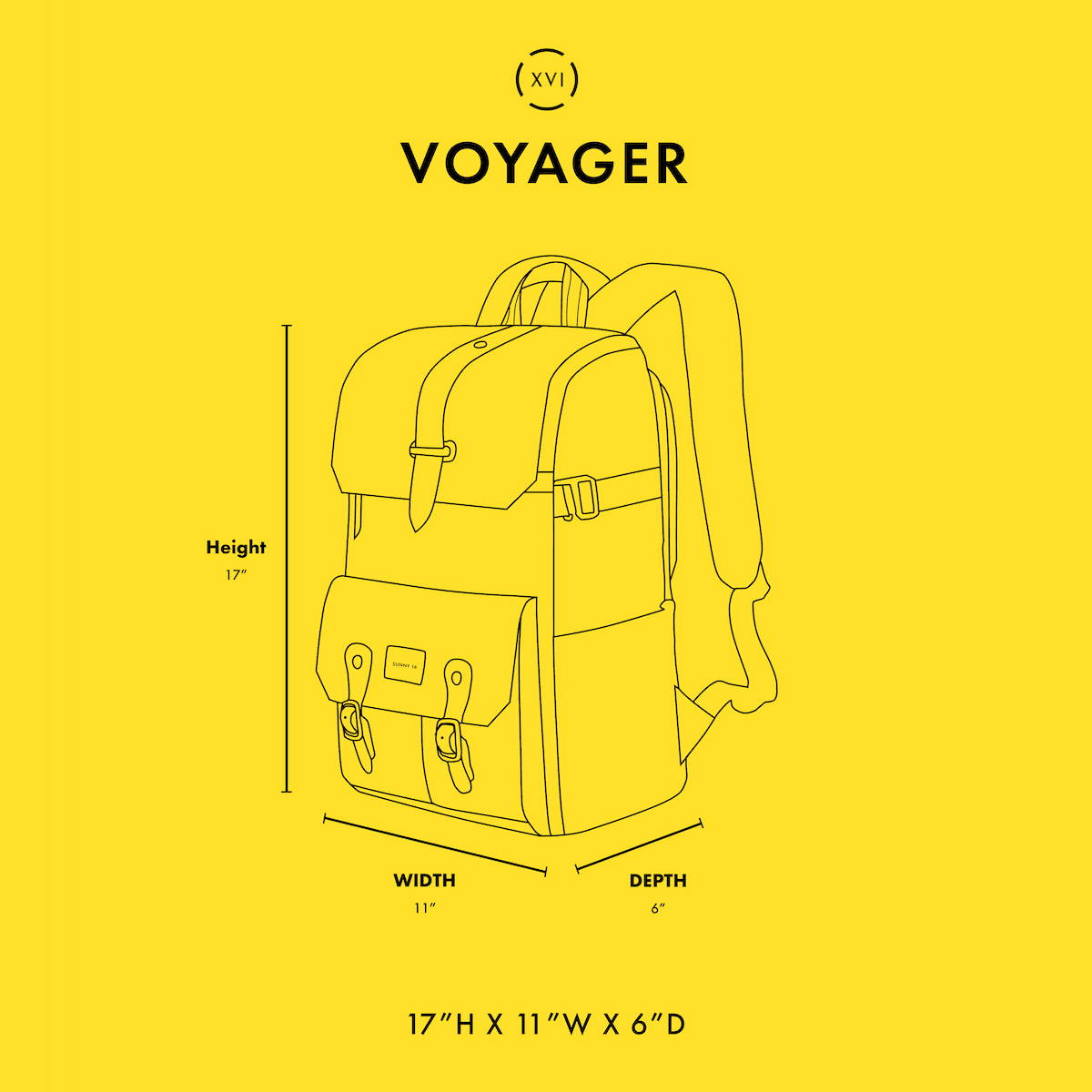 17"H x 11" W x 6" Da
3lbs (tarpaulin & canvas)
Anti-theft clamshell opening back panel
31L storage space for your travel gear
USB charging port for devices
Hidden pockets for valuables
View full details
This travel backpack features 1000D tarpaulin material which is 100% waterproof. The zippers are also water-resistant to make sure nothing gets in to keep your travel gear and personal items safe.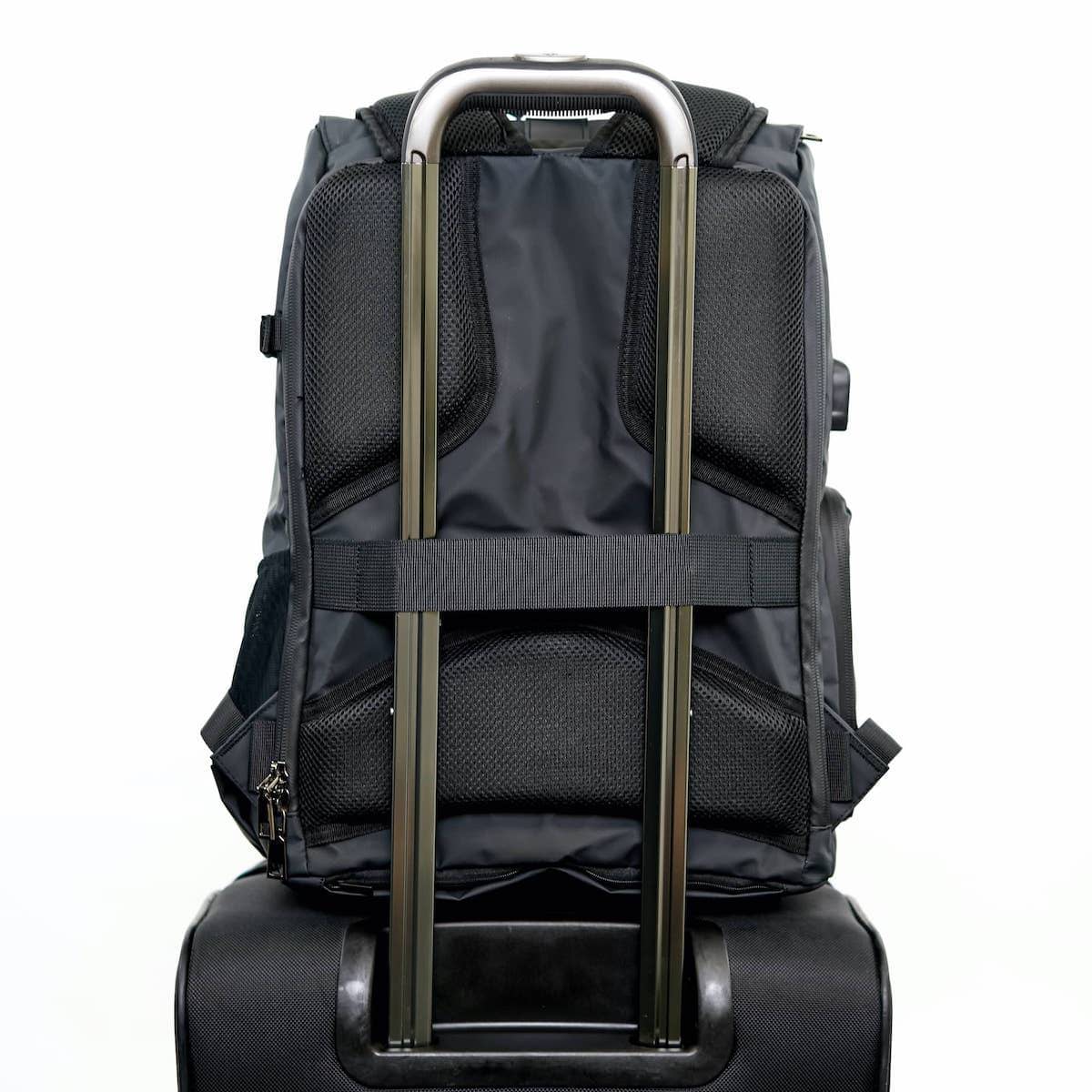 The luggage sleeve secures perfectly to your rolling suitcase and fits any size. The Voyager travel backpack also easily fits in the overhead bin of most major airlines.
We've been there — you're shooting and your batteries run out. Our built-in USB port can charge your batteries or other electronics while you're shooting so you never miss a beat. Just connect your power bank and that's it!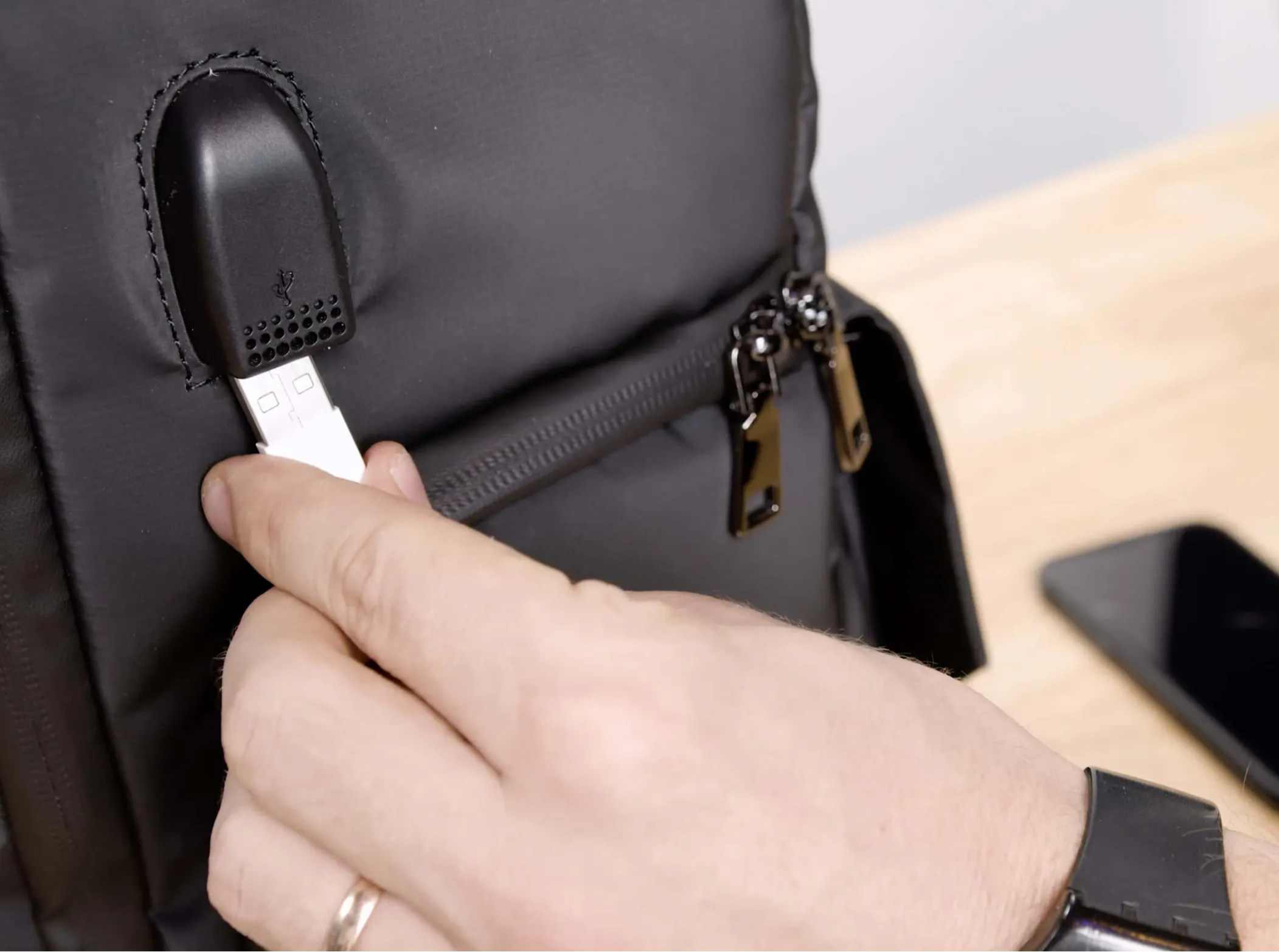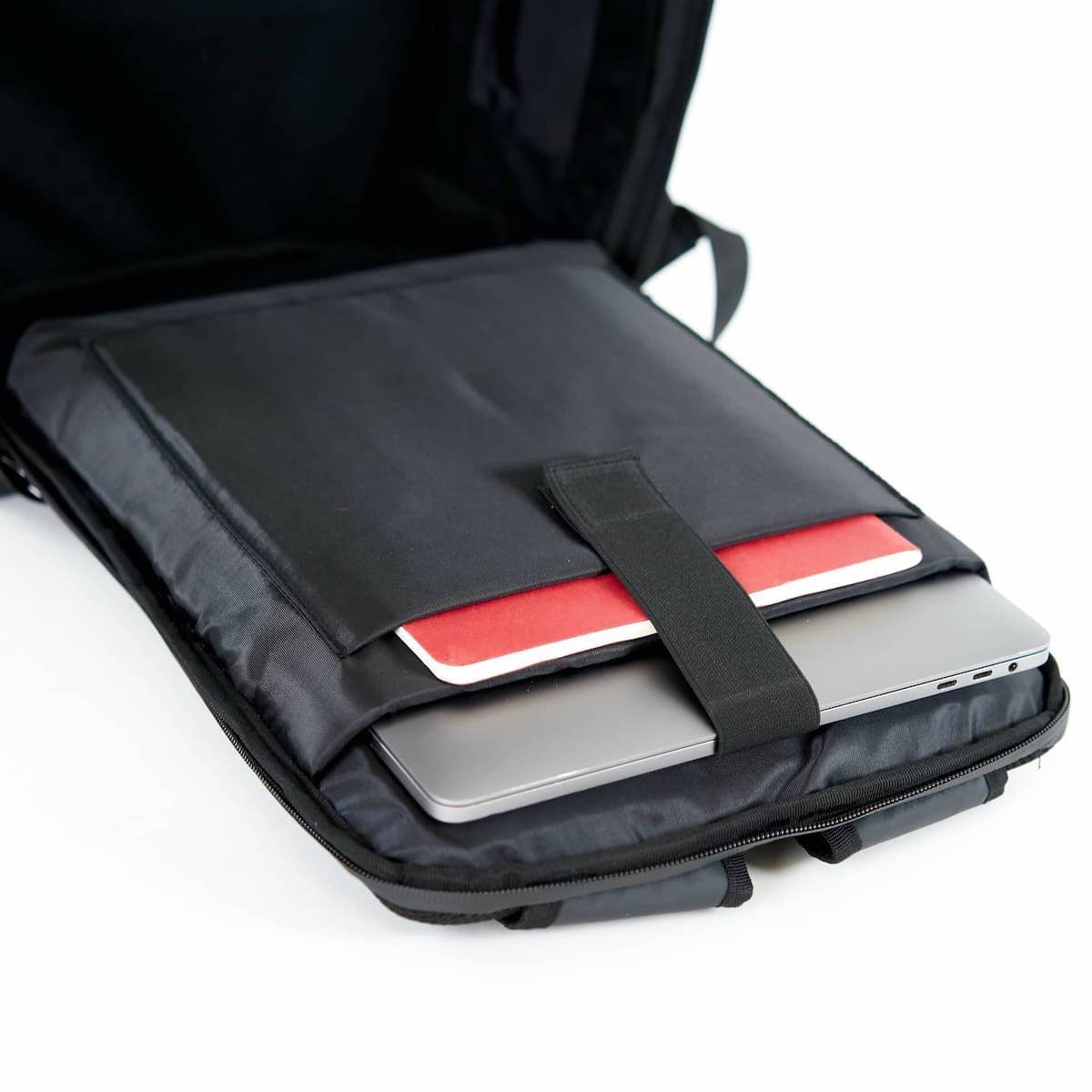 The back panel opening makes it easy to pack and a breeze to go through security so you don't need to juggle between bins. You can easily fit 16" laptops and most tablets (including kindles) inside this travel backpack.
Whether it's your passport, wallet or rainbag, the super secret hidden pocket is the ideal spot to keep your most valuable items safe and secure. This wouldn't be a travel backpack without a secret compartment!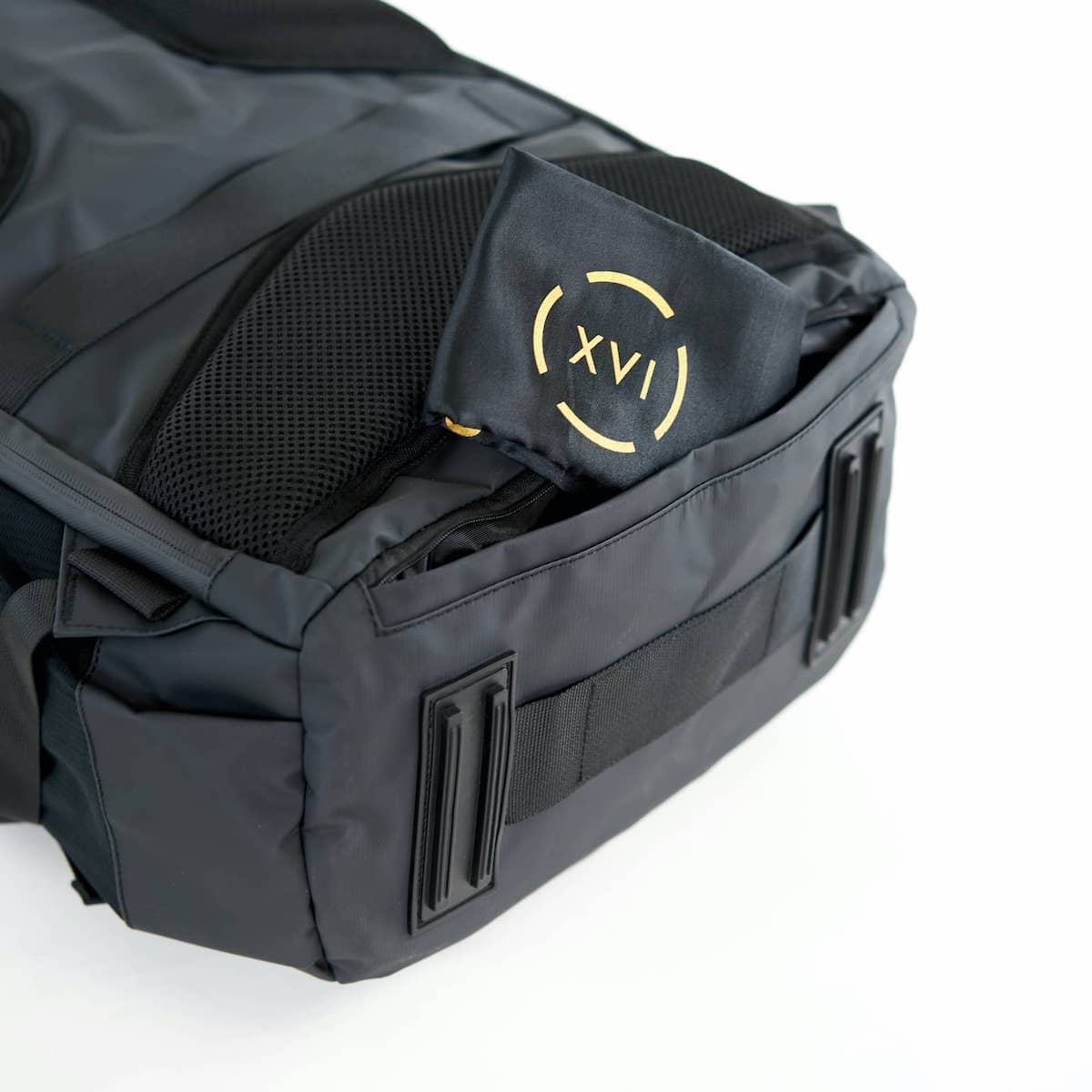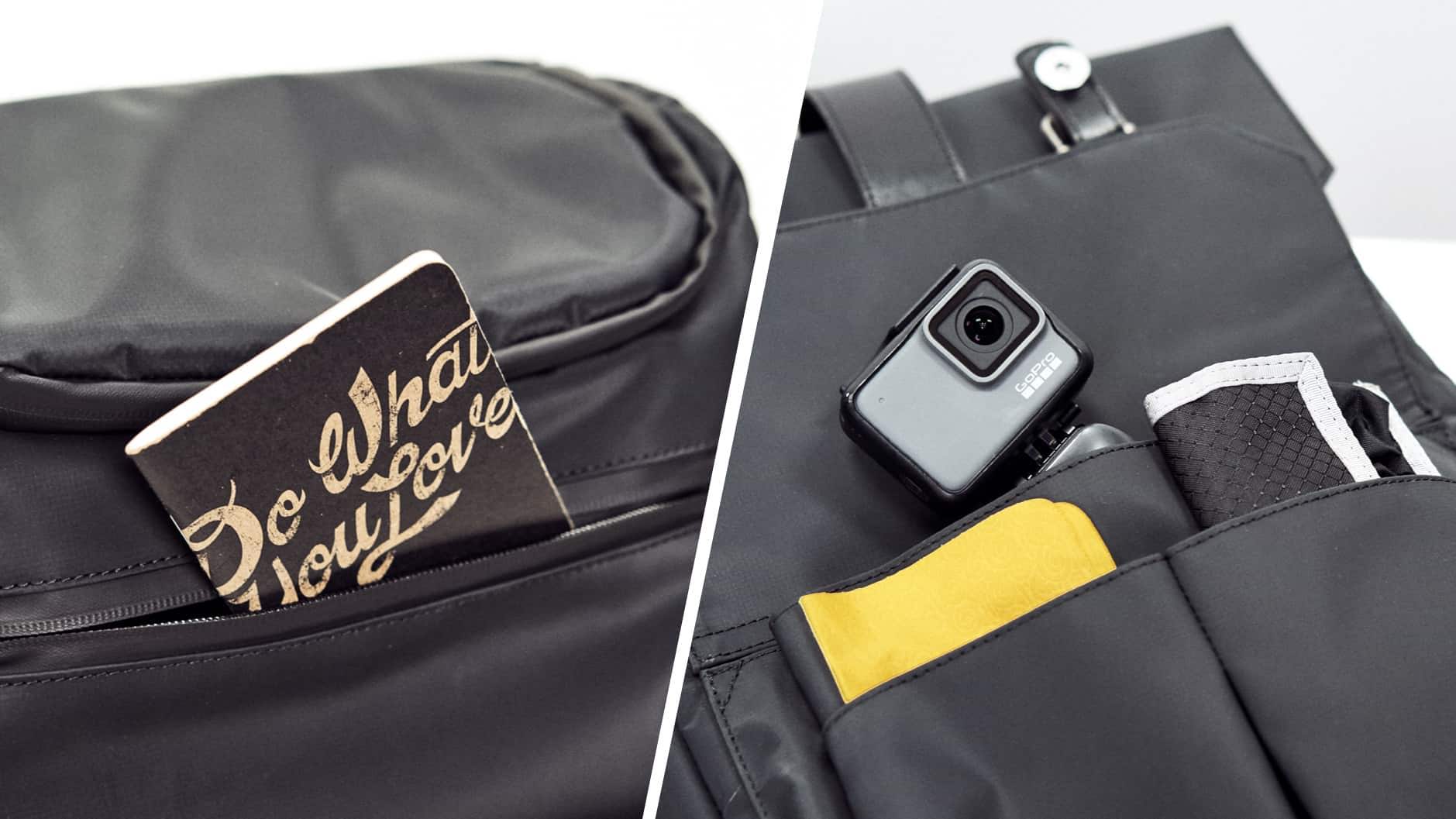 Smart travel organization

Organization is everything in the Voyager travel backpack. Every pocket has been designed with purpose and extreme detail. You'll have dedicated space for your phone, harddrive, batteries, memory cards and more!
The back is made with well-ventilated, quick-drying mesh padding that is extremely breathable and comfortable. The shoulder straps are equally padded as well so you don't feel the weight when you're traveling.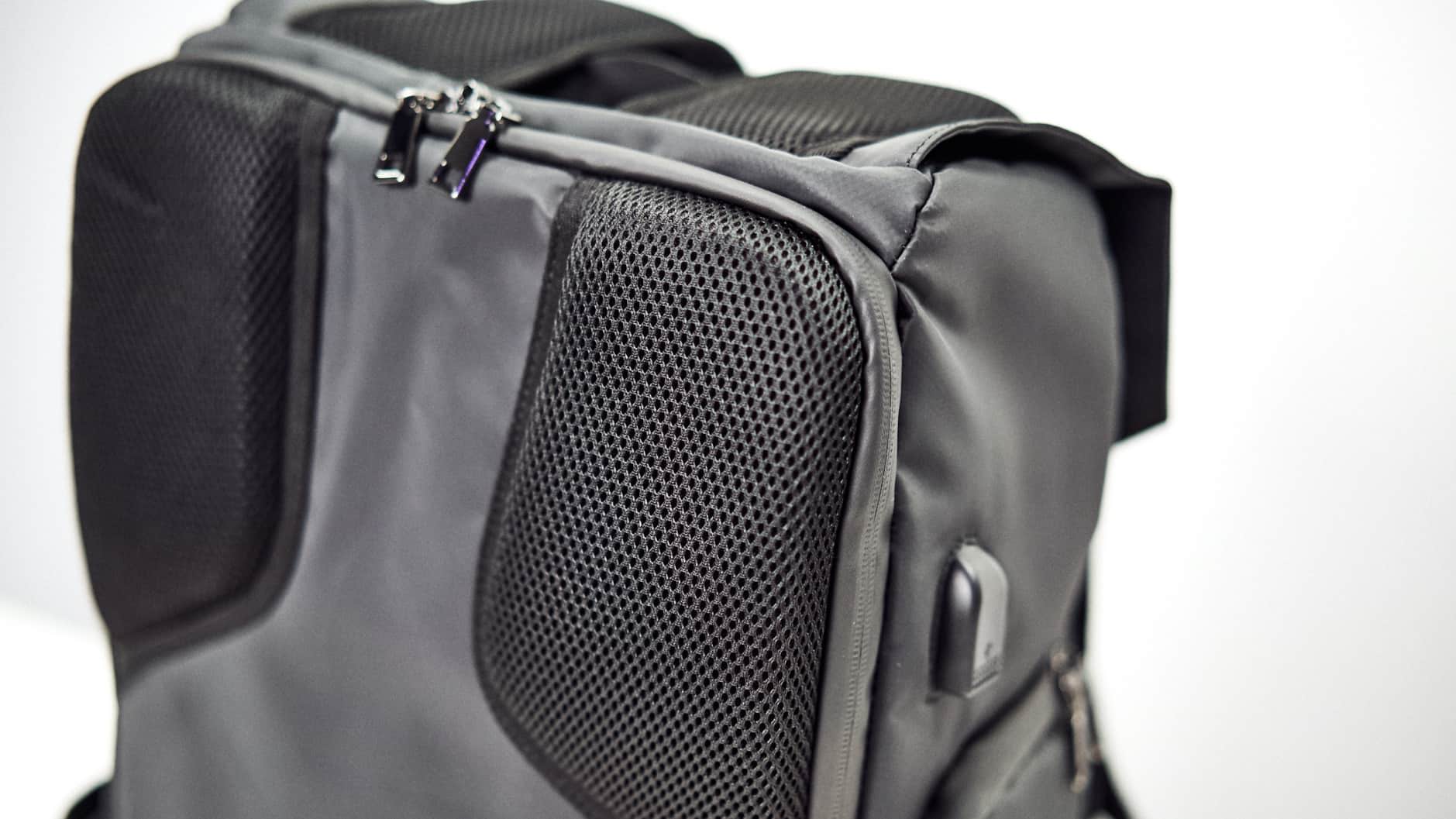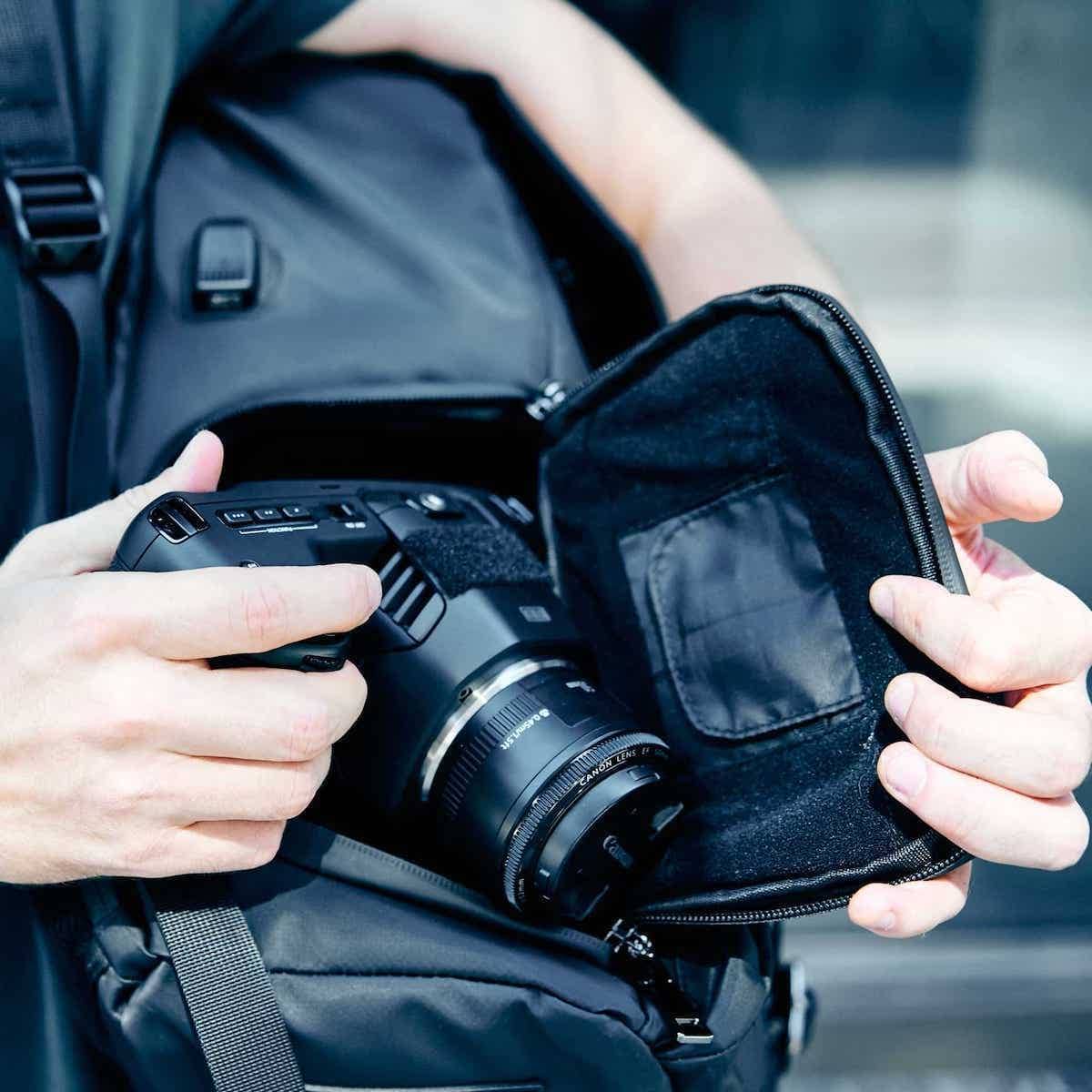 The side zipper pocket allows for instant access to your camera or other equipment in your travel bag.
Strap your tripod on the side of your travel backpack, or on the bottom. Use our buckle hardware to securely fasten it.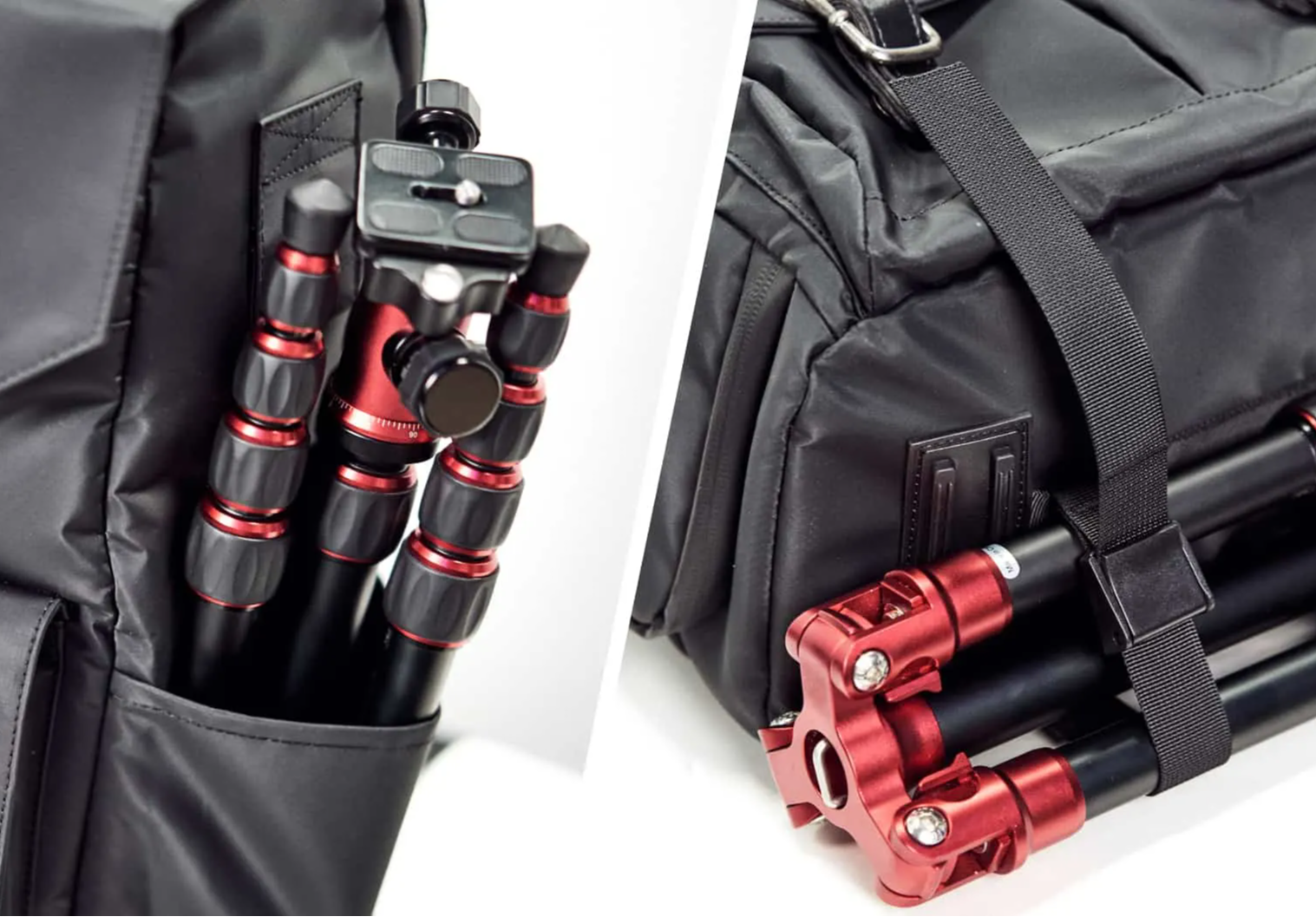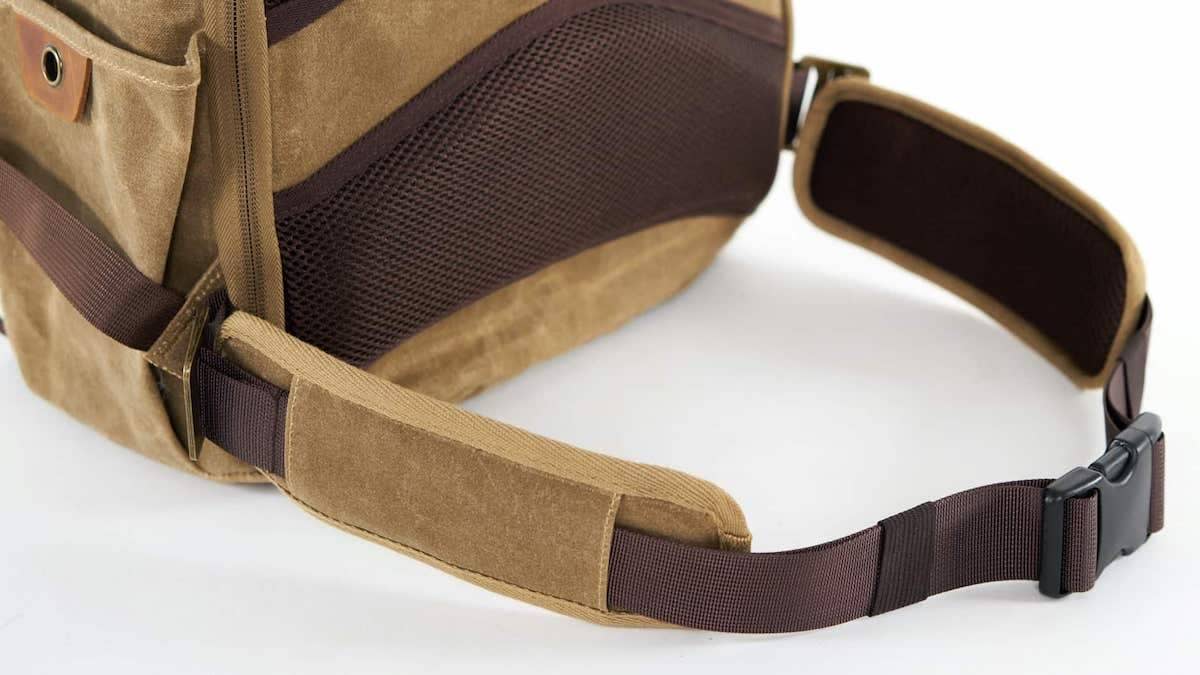 Have tons of gear in your travel backpack? Then you'll need some waist straps to help distribute the weight. You can easily remove the straps if you don't plan on using them.
The sternum straps adds more balance and support when you've packed your travel backpack to the brim. Just tighten and clip!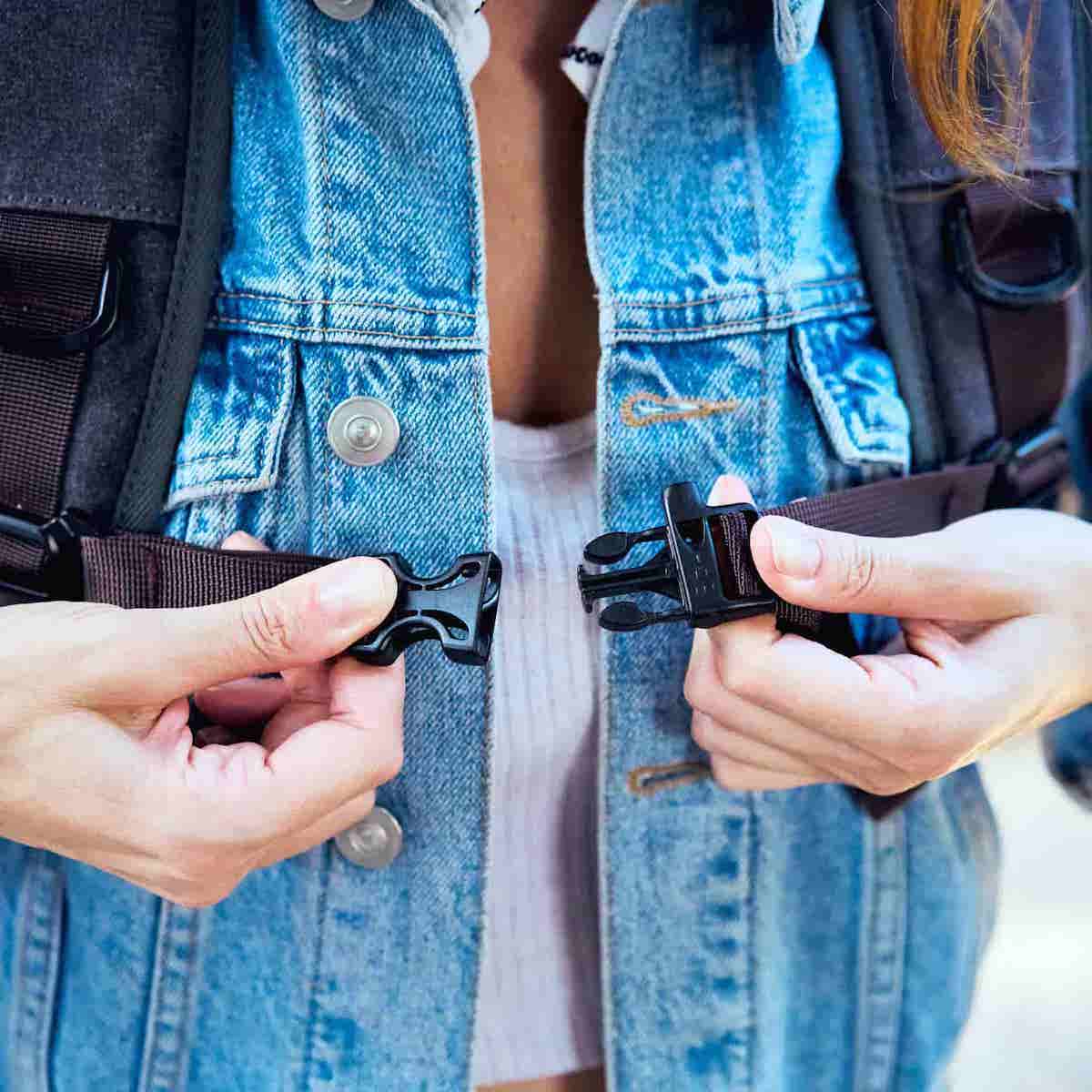 Travel Backpack Comparison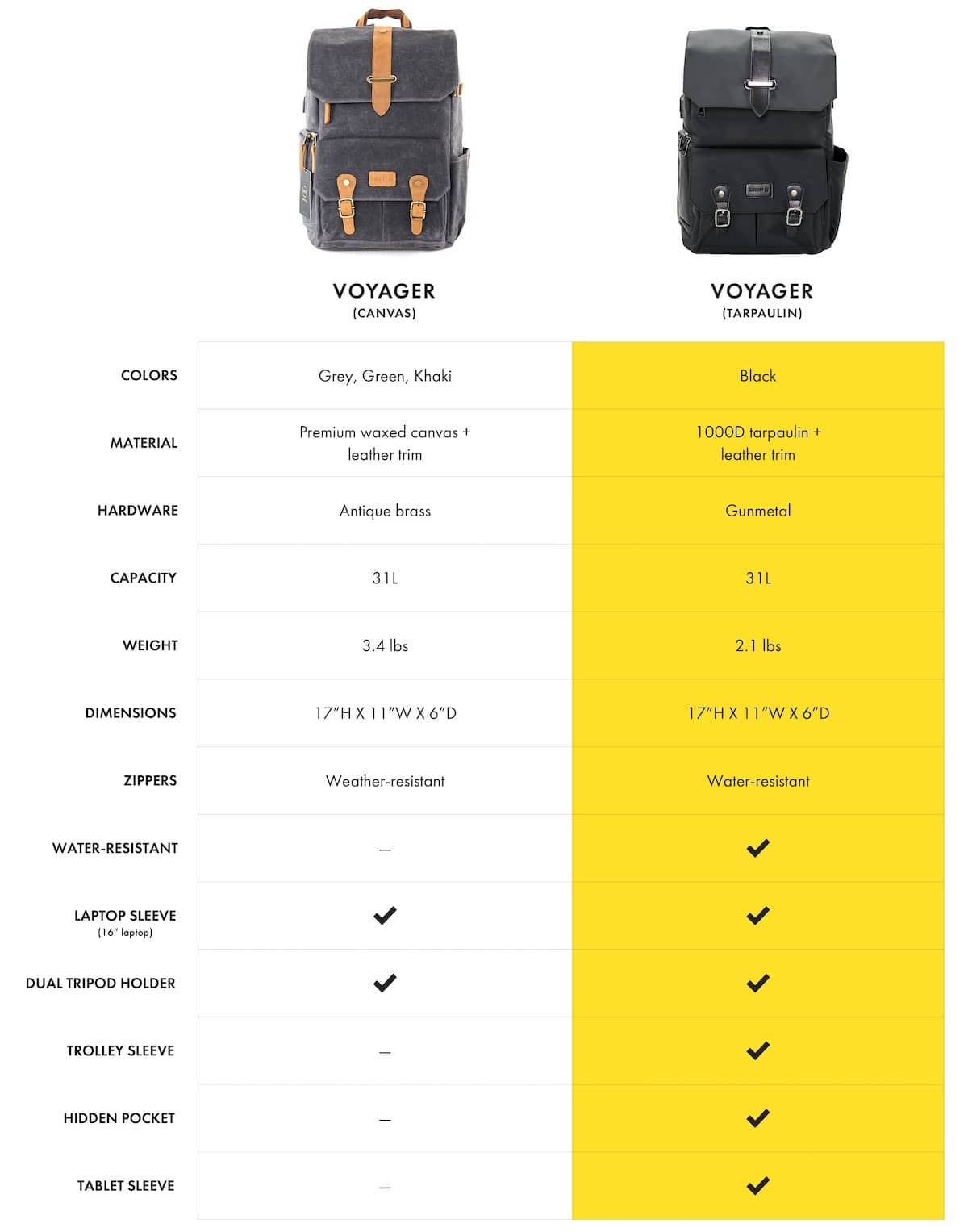 The perfect travel backpack size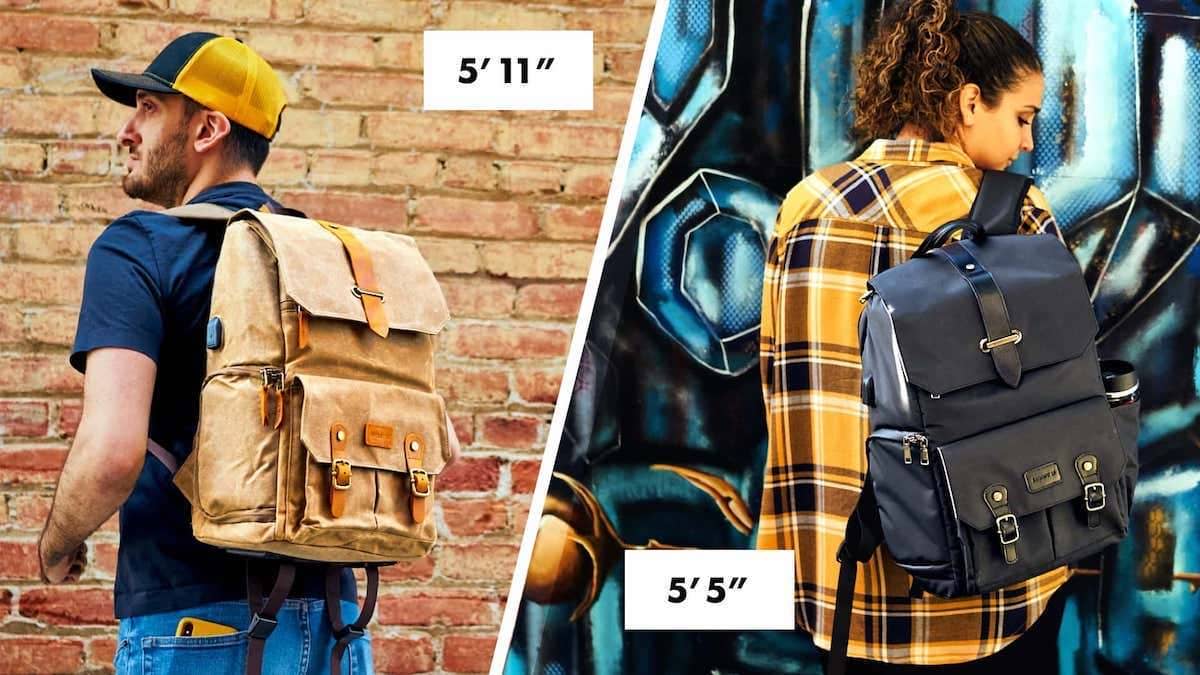 The interior compartment on the Voyager camera backpack can store a lot of gear and personal items. You can easily fit 2x DSLR bodies plus 5+ camera lenses, in addition to a drone and some accessories or personal items. The dividers allow you to customize it based on your needs so if you need to swap a lens with a battery pack instead, that's very easy to do with our bag. Just modify the dividers and that's it!
Is it actually water resistant?
Yep, the canvas material is water-resistant. It can withstand most severe weather conditions, including some light rain, heavy wind, etc. The black version features 1000D tarpaulin which is waterproof material.
Where does the power source come from?
The backpack comes with a built-in USB cable and you'll need to use a separate power bank to power the USB port.
It can fit some 17" laptops — just double-check the dimensions first.
What's the delivery time?
We ship our backpacks within 24-48 hours after you place an order and domestic shipments take between 3-5 days to arrive. If your order is placed before 1PM PT, we offer same-day dispatch. If you're international, this could take 9-12 business days.
We sure do! We ship within 24-48 hours after an order has been placed. If your order isn't shipped within this time, we may be running on limited stock so it's best to get in touch with our team about it!
Does the backpack have a warranty?
What does pre-ordering mean?
You probably noticed that some variants are available for pre-order while others are in stock — this is because some variants are still being produced and we're giving customers a chance to get first dibs as soon as they're in stock again. We ship our pre-orders based on order date — so the sooner you place your order, the sooner you'll receive it!
When will I receive my pre-ordered package?
If you ordered the canvas camera backpack, it will get restocked mid-June! Keep in mind that these bags sell out very quickly so when you place your order, you're reserving your pack (before it sells out again).
Are these carry-on acceptable on an airplane?

Yep! They fit perfectly under your seat and in the overhead compartment.
Save up to 55% on Bundles
We put our best products together to offer better adventures at better prices.
The Starter Set includes The Voyager, plus:
• Rain Fly
• Waist Strap
• Cable Lock
The Photo Bundle includes the Starter Set, plus:
• Tech Pouch
• Power Bank
The Ultimate Set includes the Travel Set, plus:
• Filter Case
• Lens Cloth